For quite some time, farm field map sharing has been quite easy inside AgNote's mapping. If you wish to share your farm's field map on PDF file, it is easy! All you need to do is click on Print or Email button and AgNote will generate a PDF file which you can print or email.
LIVE Farm Field Map sharing in AgNote
Our latest small but immensely powerful addition to field mapping allows you to share a LIVE Farm Field Map with others. For example, if someone is asking you to provide information about where each field is located. Instead of printing (generating PDF's) and sharing them with the requester, you can simply email a link to the map. From there the recipient will be able to open the map in the browser and gather the needed information. In simple words, often it is much simpler and faster to share the LIVE Farm Field Map, instead of generating and sharing one or more PDF map files.
Here is a LIVE example of what you will see when clicked on LIVE Farm Field Map's link.
Here are some highlights:
Specify which Companies and Properties will be visible on the map.
The Shared Farm Field Map's link will be publicly available for seven days.
Recipients will have the ability to generate PDF files.
Recipients will be able to draw notes on the map before generating PDF files.
Live Farm Field Map sharing is easy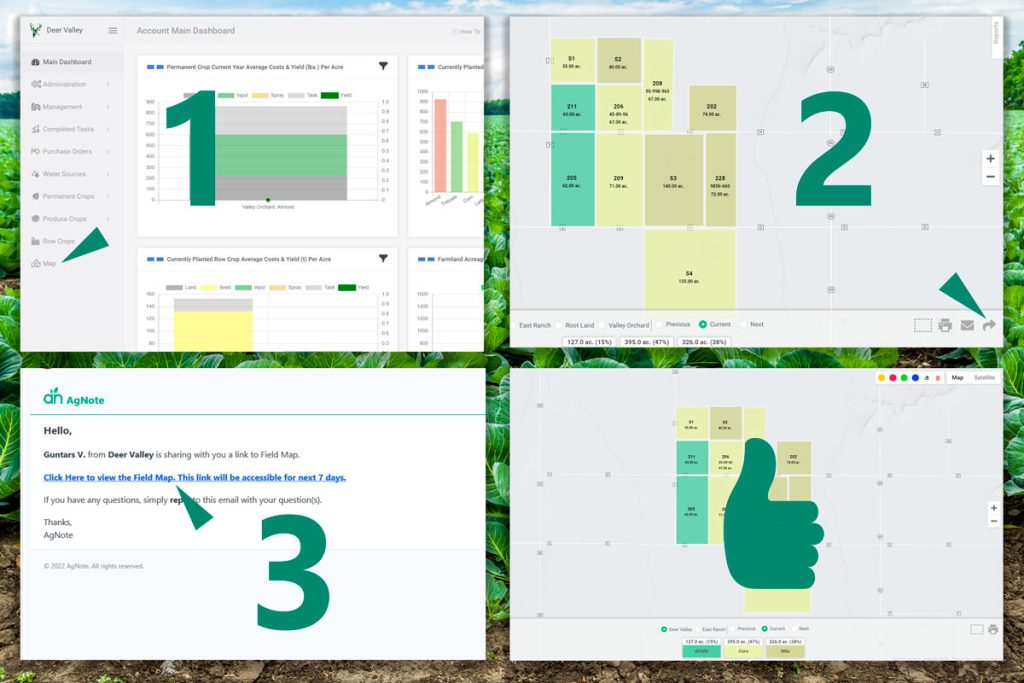 1 – go to Map's page, 2 – click on Share button and send link, 3 – recipient clicks on emailed link and voilà there is the map!
If this piqued your interest, please know that, in AgNote you can also share your farm Water Source map. Water Source map has similar functionalities as LIVE Farm Field Map. Here you can find more information about Water Source management in AgNote.