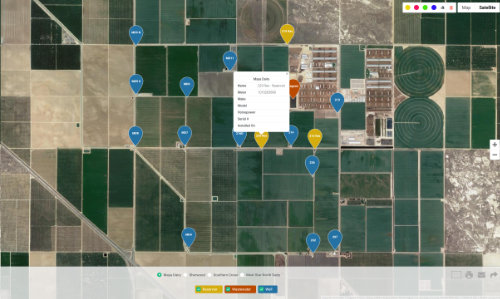 Farm field mapping is an important part of effective farm management. Easily accessible field maps can be a critical communication tool with outside vendors and of course, internally on the farm.
If you are a farmer or farm manager, I'm sure you have received many requests for a map. It sure was the case for me when I worked as a farm manager. Trucking companies needed a map with directions, insurance and farm compliance companies needed an updated map of what and where is planted. And there were many more times when a field map came in handy.
Field Mapping in AgNote
Field mapping is a noticeable part of AgNote's farm management software. You will find maps in many of AgNote's management areas, here just few of the locations:
In all management areas where maps are available, you can quickly download the map (in PDF format) or email it instantly. In AgNote maps will update automatically as you update your crop information.
Here are the highlights of AgNote's Field Mapping:
On Map's page, just click to select which farm fields you wish to view.
View print area in landscape or portrait view before printing or emailing.
Email the map in PDF format with your notes to a single or many recipients.
Draw notes / instructions on the map before printing or sharing it.
With a single click you can view on the map what was planted on the field previously, what is planted there now and what will be planted next.
Map's legend provides useful statistics like total acreage and percentage of total acreage for each crop.
The map will update automatically as you update your crop information.
Crop colors can be easily customized.
Here you can download an example map generated in AgNote. On this map you can see some notes and drawings added for improved communication.