First, what is Field Scouting
Also known as crop scouting, it is walking, or traveling through a farm field and recording observations. In simple words, it is checking and recording things that do not look right in the field.
The two most common reasons for field scouting are to check for pest infestation and plant diseases early. So those problems do not affect yield at harvest time. Unexpected pest infestation or plant diseases can potentially impact the total yield, thus reducing the revenue from the sale of the crop or other intentions for the crop, such as livestock feed.
There are many different methods of field scouting. The most common method is walking through the field and taking observation notes.
The few other methods that come to my mind are:
Traps. Popular method in permanent crops. Some traps can also include a camera that sends images or video to the farmer.
Satellite imagery.
Aerial imagery captured by UAV (unmanned aerial vehicle) or airplane.
The last two methods on the list can help to show information that humans cannot see with the naked eye, as well as accurately pinpoint which areas in the field require attention.
AgNote's Field Scouting
AgNote provides simple, practical field scouting. AgNote's field scouting can be used for the actual field / crop scouting or simply recording and saving field notes.
Field scouting in AgNote can be created and saved from within AgNote's main application or using AgNote's PWA mobile application. Of course, the recommended and most convenient option is to use PWA application on the smartphone. When using smartphone, an accurate location will be recorded for each image, just remember to allow application to use your phone's location information ????
Here are just some highlights of AgNote's field scouting capabilities:
Save unlimited field scouts for each planting or season.
Attach up to six images for each field scout.
Instantly share field scout results by email. Email recipient(s) will receive a secure sign link to scout details on the map.
Record exact scout location.
Clear visibility of which plantings or seasons have field scouts saved.
Below is a screenshot where we can see which plantings have one or more field scout results saved.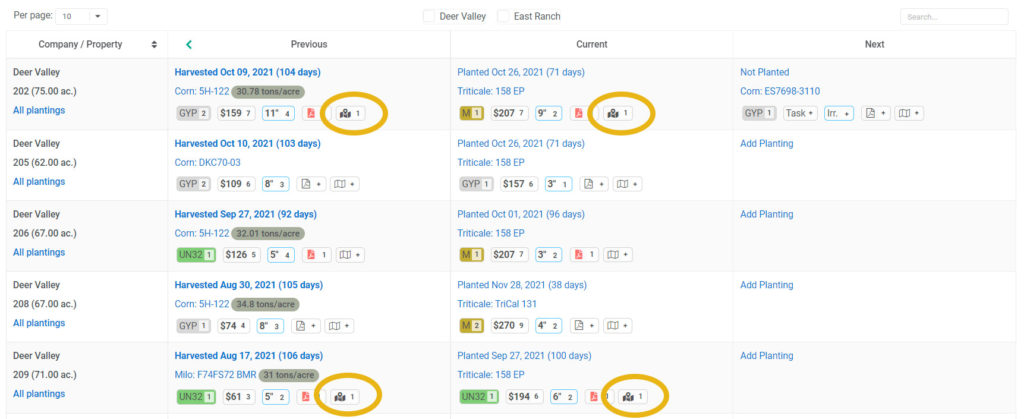 As you can see in the screenshot above, it is extremely easy to spot which plantings have one or more field scouts saved.

The pop-up modal lists all saved field scouts for the planting or season.
On this modal you can:
Update existing field scouts
Add new field scout
View field scout images
Share the field scout report
View on the map, where exactly the field scout images were taken
Here is a quick demonstration on how to save, share and view field scout information in Agnote. You can also register for a free trial account and try it out yourself ????