Let's just say this post is a continuation for Effective Harvest Time Tracking & Estimation? post, which was published earlier. In the earlier post I went over the latest addition in AgNote for harvest time tracking and estimation. In the earlier post you can learn how to enable Estimated Harvest date tracking in AgNote. And once enabled, where you can see the crop Estimated Harvest dates.
Estimating a precise harvest date is a significant part of effective farming. Yes, AgNote knows when the estimated harvest date is, but it would be even nicer if AgNote could notify users well before it is time to harvest.
Email me before it is Time to Harvest
If you log into AgNote's farm management software, you will be able to see the estimated harvest date for each row and vegetable crop, if the Estimate Harvest Date is enabled. AgNote has downloadable / emailable report for estimated harvest date.
In AgNote many of the available reports can be scheduled. When scheduling a report in AgNote you will be able to select:
The report
Companies for which you want the data to be included on the report
Specify email frequency (daily, weekly, etc.)
Date and time when the email should be sent
Enter recipient email addresses
Below is a screenshot of Scheduled Reports management area in AgNote.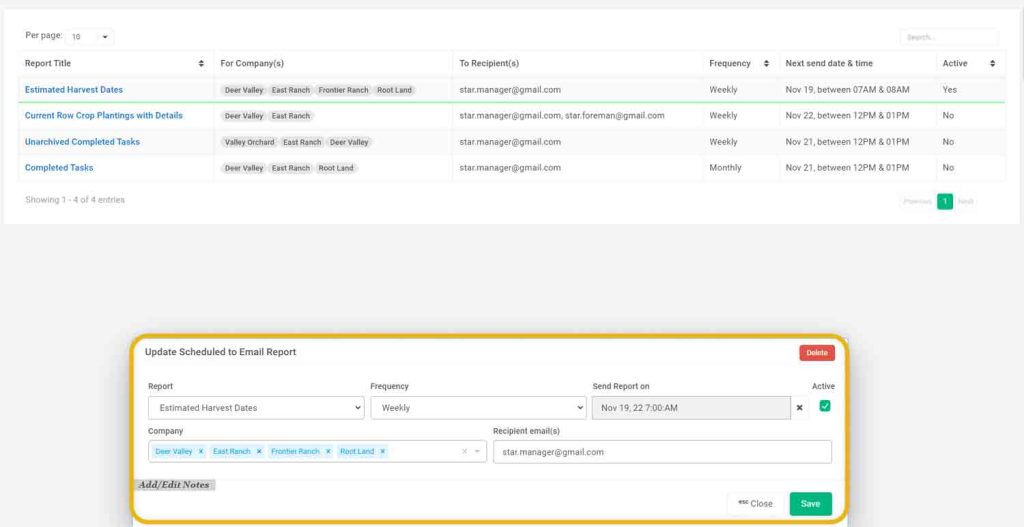 Before sending the Estimated Harvest Dates report AgNote will look 30 days ahead to see if there are any estimated harvests coming up. If there are no harvests coming up, AgNote will not send the email.
Here is a short screencast demonstrating where to find "Estimated Harvest Dates" report and how to schedule reports in AgNote's farm management software.
Another convenience we added to this report is, when emailed, the report will be attached to the email, but the time to harvest crops will also be inside email body. This will save few clicks and a little bit of time for the user to get to the information that matters.