In AgNote we provide an effortless way to capture farm data, it just makes sense that we should also provide a simple and easy way to view and analyze your farm data.
AgNote's farm management software is well known for its powerful and customizable crop dashboards. Now AgNote's dashboard charts have even more flexibility. Now, for many charts, you can select what data you want to see. Here you will find more posts about AgNote's Crop Dashboards.
Crop Dashboard Customization Highlights
First let's recap available dashboard customizations in AgNote
Users can choose what charts should be visible on each dashboard.
Users can customize the chart order on each dashboard.
Account administrators can disable access to charts with sensitive information (financial data).
Account owners can request AgNote to create a custom chart just for his/her account.
Data Filtering on Dashboard Charts
Now let's return to the data filtering, which is now available for many charts on AgNote's crop dashboards. On the chart's upper-right corner, if you see this icon

, that means that the data for this chart can be filtered. Often the filter will allow you to filter data per Company. Filter functionality is extremely useful when you have many companies (farms) in your account and you don't want to show them all, or it may look too cluttered and unreadable. Note that once you filter the chart, AgNote will remember your selections. If the chart has filtered data, you will see the filter icon in darker color, something like this

.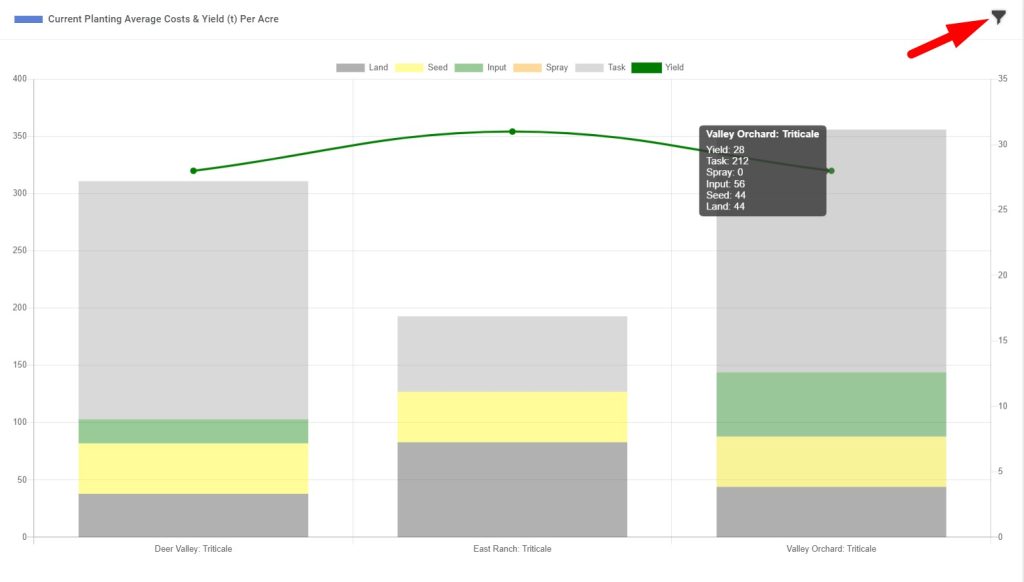 This maybe a small addition to AgNote's crop dashboard functionalities, but if you do have a lot of farms, fields, crops, etc. in your account, you will definitely find the data filtering extremely useful.
Here you can learn more about dashboards inside AgNote's farm management software. Or if you would like to try it out for yourself and see the Farm Dashboards in action, please register and try it free for seven days.