If you are farming crops which are harvested multiple times in a season, the Annual Harvest View in AgNote will provide you with a quick visibility to all harvest data for the season.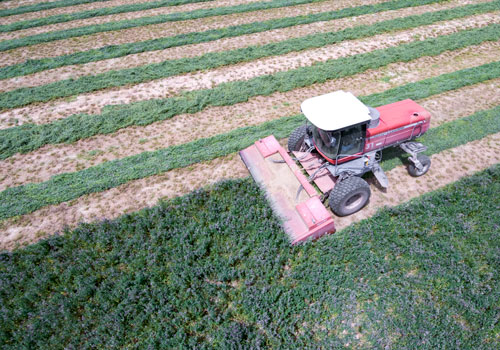 A suitable crop for Annual Harvest View is alfalfa planting, which has been planted in the field for many years and has multiple cuttings each year.
When I was managing farmland for multiple dairies, it was helpful for me to see all the alfalfa cuttings in one place. Where alfalfa cuttings along with harvest details were sequentially ordered for each season.
Let's look at the Annual Harvest View screenshot:
Notice the Year Navigation upon top, in the screenshot. Crops which stay planted in the field for several years, you can navigate between the calendar years, to see harvest details for each season.
Let's take a closer look at what information we can see for each individual harvest:
Date harvested (# of days between harvests)
Harvest Yield.
Input cost per acre.
Completed task cost per acre.
Irrigation water inches.
In the far-right column of Annual Harvest View, you will find YTD (year-to-date) statistics for each field. In the YTD column you can add or update planting related information.
On the Row Crop's dashboard, you will find dedicated charts for crops in Annual Harvest View. These charts will allow you to monitor Annual Harvest data for each season and YTD progress.
Okay, there is nothing "flashy" ????! But if you are looking for a simple, practical way to manage your harvest data, Annual Harvest View will definitely help. Try it!